I. Introduction
Hello, fashion enthusiasts! Today, we're diving into the exciting world of daytime events. Ever found yourself puzzled about what to wear to a formal daytime event? Well, you're not alone. Dressing up for daytime events can be a bit tricky. Unlike evening events that often call for black-tie attire, daytime events can vary significantly in formality. But don't worry, we've got you covered. Let's unravel the mystery together and make sure you're the best-dressed guest at your next daytime event!
II. Understanding the Event
Before we start picking out outfits, it's crucial to understand the event you're attending. Each event has its own unwritten dress code, and it's important to dress accordingly. For instance, a corporate event might require a more conservative outfit, such as a tailored suit or a pencil skirt with a blouse. On the other hand, a charity luncheon might allow for a bit more creativity and color. If it's a wedding, the invitation often indicates the expected level of formality. So, always consider the nature of the event before deciding on your outfit.
III. Choosing the Right Outfit
Now, let's talk about the fun part - choosing your outfit! For formal daytime events, you can never go wrong with a well-tailored suit or a classy dress. If the event is outdoors, consider lighter fabrics that breathe well. Linen or cotton could be great choices. If it's indoors, you might want to opt for something a bit more structured. A fitted blazer or a sheath dress could work wonderfully.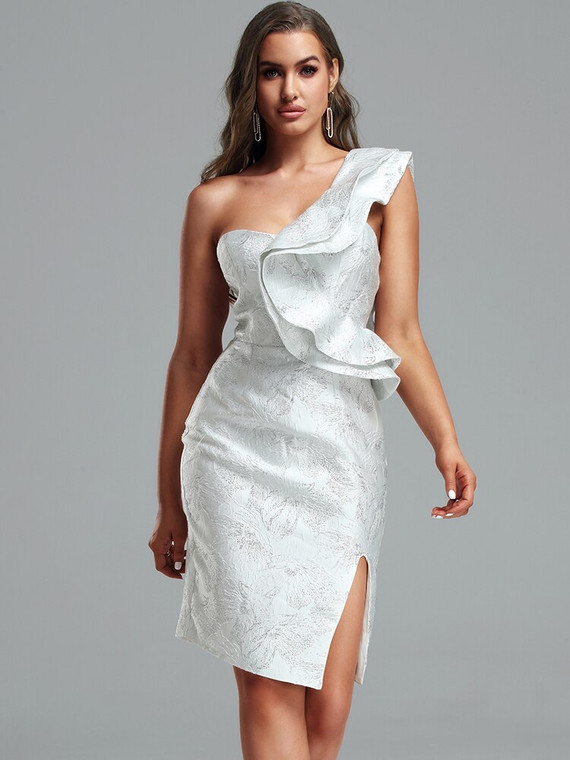 "Looking for the perfect outfit for a daytime event? Check out this stunning Jacquard One-Shoulder White Bodycon Dress from Grrly Grrls. Its elegant design and chic white color make it an excellent choice for any formal daytime occasion."
For example, if you're attending a daytime wedding, a floral midi dress paired with strappy sandals could be a great choice. If it's a corporate event, a tailored pantsuit in a light color could be appropriate. And remember, always consider the weather and the venue. You wouldn't want to wear a heavy velvet dress on a hot summer day, would you? Similarly, a light chiffon dress might not be the best choice for an air-conditioned conference room.
IV. Color and Pattern Selection
Colors and patterns play a significant role in your outfit. For daytime events, lighter colors usually work best. Think pastels, light blues, or even a crisp white. These colors tend to look fresh and appropriate for the daytime. As for patterns, they can add a fun element to your outfit.
For instance, if you're attending a charity luncheon, a pastel-colored dress with a subtle pattern could be a perfect choice. If it's a corporate event, a light-colored suit with a subtle geometric pattern could add a touch of personality to your look. But remember, the key is to not go overboard. You want to look chic, not chaotic! So, if you're opting for a patterned piece, balance it out with solid colors.
V. Accessorizing Your Outfit
Accessories can make or break your outfit. The right pair of shoes, a classy bag, or a statement piece of jewelry can elevate your look to a whole new level. But remember, balance is key. If your outfit is already quite elaborate, go easy on the accessories. You might want to opt for a simple pair of earrings or a classic watch. On the other hand, if your outfit is quite simple, feel free to jazz it up with some bold accessories.
For example, if you're wearing a simple white dress to a wedding, consider pairing it with a statement necklace or brightly colored heels to add a pop of color. If you're wearing a patterned suit to a corporate event, a pair of classic earrings and a sleek watch might be all you need to complete your look.
VI. Grooming and Makeup
Grooming and makeup are the final touches to your perfect outfit. For daytime events, a natural, polished look usually works best. Opt for a light foundation, a bit of mascara, and a soft lip color. As for your hair, keep it simple and elegant. A sleek ponytail, loose waves, or even a chic bun can do the trick.
For instance, if you're attending a charity luncheon, you might want to opt for a loose, wavy hairstyle and a soft, natural makeup look. If it's a corporate event, a sleek ponytail or bun and a more polished makeup look might be more appropriate.
VII. Practical Tips and Tricks
And finally, let's talk about comfort. Yes, looking stylish is important, but so is feeling comfortable. After all, you want to enjoy the event, right? So, choose an outfit that allows you to move freely. If you're wearing a dress, make sure it's not too tight or restrictive. If you're wearing a suit, ensure that the jacket and trousers fit well and allow for movement.
Also, consider the weather. If it's going to be hot, opt for breathable fabrics like cotton or linen. If it's going to be chilly, don't forget to bring a stylish shawl or jacket. And let's not forget about footwear. While those high heels might look stunning, they might not be the best choice for an event where you'll be standing or walking a lot. Opt for stylish yet comfortable shoes, and your feet will thank you!
VIII. Conclusion
Dressing up for a daytime event doesn't have to be daunting. With these tips, you'll be the best-dressed guest at your next daytime event. So, go ahead, embrace your personal style, and make a fashion statement! Remember, fashion is all about expressing yourself and feeling good in what you're wearing. So, don't be afraid to experiment and let your personality shine through your outfit. As you step out to your next daytime event, remember that confidence is your best accessory. Wear it well, and you're sure to turn heads!